We understand work and life schedule can get hectic sometimes. That is why we compile a list of Halloween nail art for a 'spook-tacular' impression!
1. Jack-O-Lantern
Scary or spooky, this classic Jack-O-Lantern nail art is your first choice! Created using Winstonia's Spooktacular stamping plate. By @de.lish.ious.nails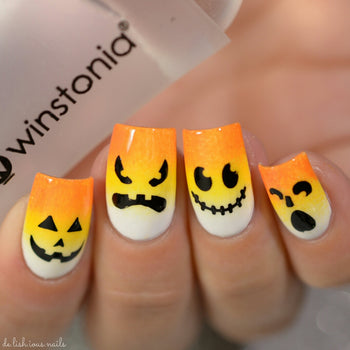 2. A Tangled Arrangement
This creepy spider theme nail art promise to 'catch' attention whenever you go. From Winstonia Stamping Plate 'Hallo-scream'. By @cdbnails143.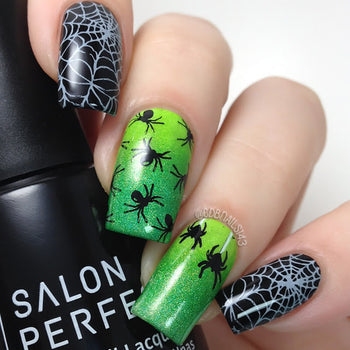 3. Black Widows
Another crawling creature - spiders' theme. This nail art comes with a touch of glittery silver nail color which gives a cool and refreshing design. From Winstonia Stamping Plate 'Hallo-scream'. By @de.lish.ious.nails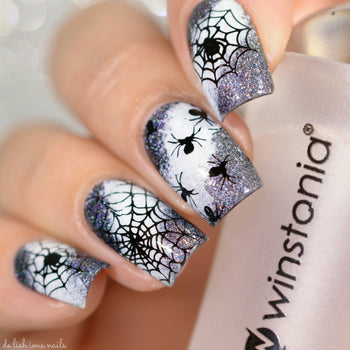 4. You Can't 'Ghost' Me
A super adorable ghosts theme nail art with a bubbly pink and purple nail color background. Who said Halloween nail art can't be made cute? By @nailstamp4fun using Hallo-scream stamping plate.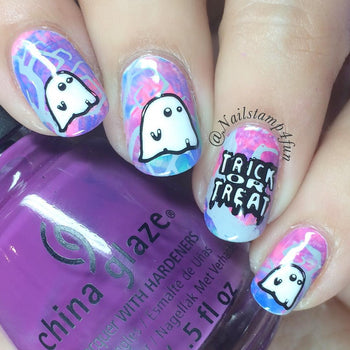 5. Glowingly Scary
When the sun sets and it's dark, your nails will be screaming for attention! Stamp over a glow in the dark nail polish base. By @kimberleykitty using Winstonia Horror Night stamping plate.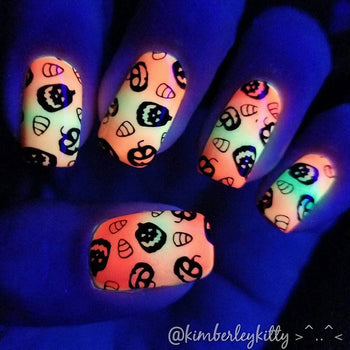 6. Stitched French Tips
Give your French Tips a quick and simple twist by drawing stitches along the line. Instant Halloween nail arts with minimal effort! Created by @nails.by.teens using Winstonia Berry Wine brushes set. 
7. Nightmare Before Christmas
Using just black and white nail polis and Winstonia Rose Noire nail brush, @nailsbycambria created this simple yet impressive Jack Skellington nail art.
8. Bloody Hand Prints
This bloody nail art sends chill down our spine.. that we just want to scream for help! By @lacquerorleaveher stamp over our 'Hallo-scream' hand print image.